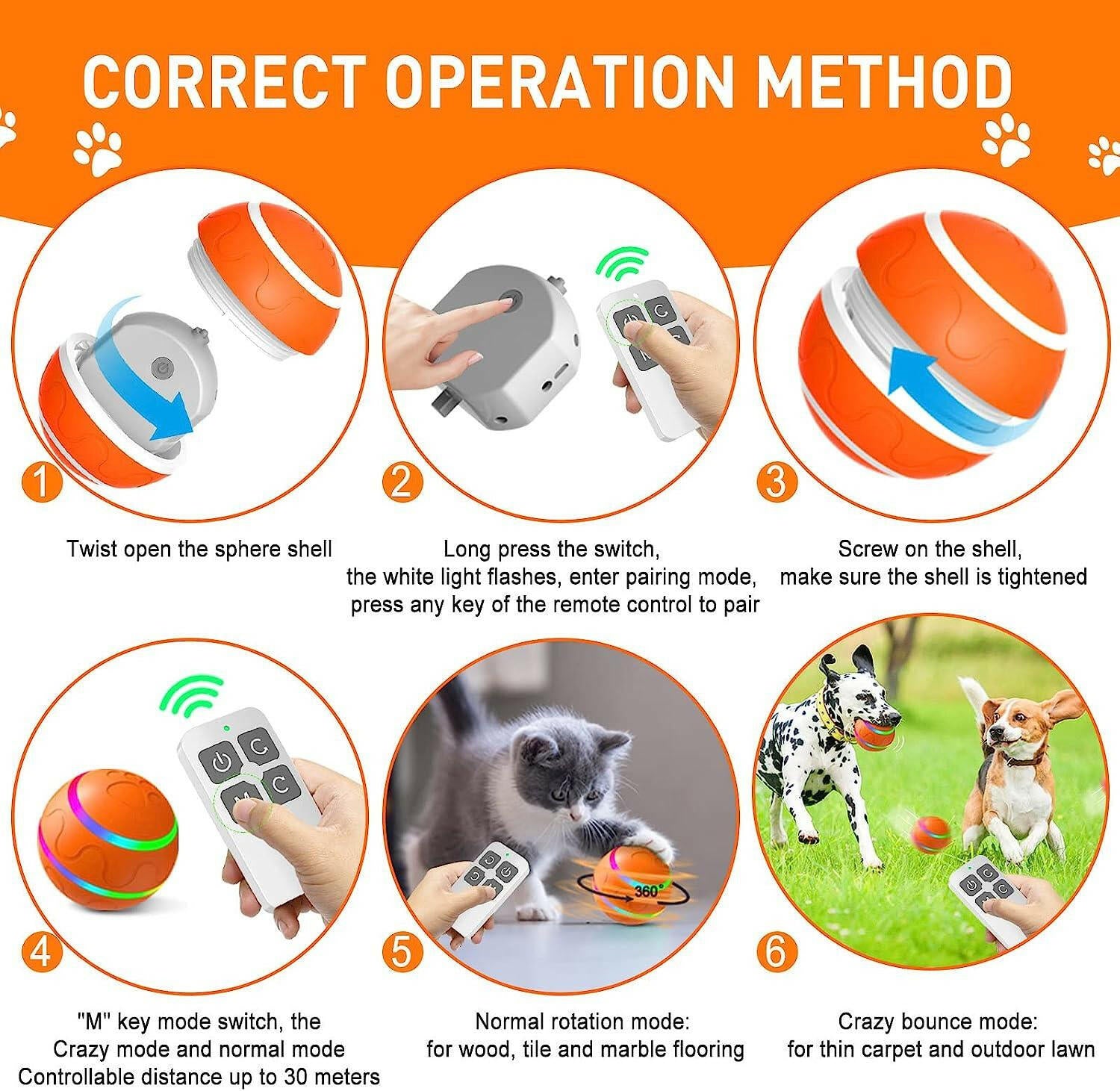 Remote Dog Ball, Automatic Dog toys, Peppy Pet Ball, dog ball that moves on its own
Delivery

We provide free insured and tracked shipping for every order. The estimated delivery times after shipment are as follows: USA: 3-7 business days, UK: 7-18 business days, Australia: 7-18 business days, Canada: 7-18 business days, Europe: 7-18 business days, Rest of the world: 14-20 business days.

Free Return

We have a strong affection for our products, and we believe that you will share the same sentiment. Therefore, we are providing a 90-Day Trial, free from any risks. If you are not fully satisfied with the outcome, we will reimburse you.
Your purchase makes a difference.
Introducing the Remote Dog Ball: The Perfect Automatic Toy for Your Peppy Pet
Are you tired of seeing your beloved furry friend bored and restless? Do you wish to give your dog a playmate that moves on its own? Look no further! Introducing the Remote Dog Ball - the ultimate automatic toy designed to keep your dog entertained and mentally stimulated.
We understand how important it is to provide our pets with ample exercise and entertainment. Regular physical and mental stimulation are vital for a dog's health and overall well-being. That's why we have created the Remote Dog Ball - a state-of-the-art dog toy that is guaranteed to provide endless fun and engagement for your peppy pet.
The Remote Dog Ball is an ingenious invention that takes playtime to the next level. Imagine a sturdy, colorful ball capable of independent movement, designed to grab your pet's attention and encourage hours of play. Equipped with advanced technology, this dog toy can move in different directions, creating a realistic play experience.
With the Remote Dog Ball, you, as the owner, are in complete control. Using the included remote control, you can navigate the ball effortlessly, directing it to move forward, backward, left, or right. This feature allows you to engage in interactive play with your four-legged friend, stimulating their natural chasing instincts. The ball's dynamic movement keeps your dog on their feet, running, chasing, and jumping with excitement.
Made with pet-friendly materials, the Remote Dog Ball ensures the safety of your furry companion. Its solid construction withstands even the most vigorous play sessions, making it durable and long-lasting. Additionally, the ball's smooth surface prevents any injuries to your dog's paws, enhancing their playtime experience.
Not only is the Remote Dog Ball a source of entertainment, but it also provides numerous benefits for your pet's development. By engaging in interactive play with this automatic toy, your dog will improve their agility, coordination, and mental acuity. The ball's unpredictable movements challenge their problem-solving skills and keep their minds sharp.
Furthermore, regular play with the Remote Dog Ball can alleviate separation anxiety. Dogs left alone at home often experience boredom and loneliness, leading to destructive behavior. This intelligent toy acts as a companion for your dog when you're away, keeping them engaged and entertained until your return.
In conclusion, the Remote Dog Ball is the perfect automatic dog toy for every peppy pet. Providing endless fun, mental stimulation, and exercise, this interactive ball is a must-have for dog owners seeking to enhance their furry friend's playtime experience. Give your dog the gift of entertainment and companionship with the Remote Dog Ball - the ultimate choice for automatic dog toys!
Transform playtime with your pup with the Peppy Pet Ball. This fun and exciting toy is remote operated, to keep your dog busy and entertained with its moving motion! Plus, the Peppy Pet Ball is sure to increase the bond between you and your pup as you play together. What's not to love?

The dog toy ball comes with a remote control, which allows you to turn the ball on/off, turn left/right, and switch between crazy and normal modes. So you can change the direction, trajectory, speed of the wicked ball with the remote control, easy to interactive with your pet at any time. The interactive dog ball has a built-in motion sensor, when you are busy or have work, your dog can also be happy to play by himself.

Waterproof:IP54. Meet the requirements for indoor and outdoor use

The diameter of the ball is 2.8 inch, it can work with 10lbs to 50lbs dogs. And if you think the ball is too smooth, you can put the ball in a sock.

Smart electric dog ball offers 30 min of active play and goes to rest mode for 10 min to keep your fur baby a good play-rest balance. When you are busy or want to take a rest but your pet is still full of energy, interactive dog toy is the right choice. Also, wicked ball can last 4 hours after 1.5 hour charging. If you find that your dog ball toy is unresponsive or slow, this is a sign of low power. After recharging, the pet ball will return to a positive state.
Intelligent dog toys have normal and Crazy modes. Normal mode is automatic movement and rotation. And crazy mode is automatic movement and bouncing. Normal mode of peppy pet ball is suitable for wood, tile and marble floor, the crazy mode is suitable for thin carpet and outdoor lawn. The cool LED lights will be on when the dog ball is operating, attracting pet to chase and capture it, preventing your puppy get boredom keeping your sweety active and running.

We care for our dogs like babies, we want them to be happy and healthy. Dogs like biting, chewing and licking their interactive dog toys. Wicked ball is made of durably natural rubber and TPU materials, which are safe and non-toxic. Peppy pet ball is BPA-free, wear-resistant and low noise. We suggest your supervision during the fun play and instruct your dog how to interact with the wicked ball properly instead of just chewing on it.
Material: Silicone+ABS Diameter: 80mm
Battery: 500mAh Single ball weight: 165g
Charging voltage: 5V
Working mode: crazy mode/normal mode
Waterproof level: IP54    Standby: 7 days    Keep working: 4 hours
Remote control distance: 30 meters