Use some chocolate chips and a pop-it fidget and you're ready to make your own homemade candy bar!
The pop it toys are unique in that they are made of the same material as the silicone candy molds and can also be used for this purpose. The bubbles are just the right size for M&Ms!
What It Takes to Make Pop-It Chocolates?
Chocolate chips or melted wafers - milk or white chocolate
M&Ms Candy
microwave safe mixing bowl
How to Make Chocolate Lollipops?
First, make sure all the dimples are pushed in the same direction.
Fill each indentation with one M&M candy. We matched the candy color to the stripe color on the fidget toys.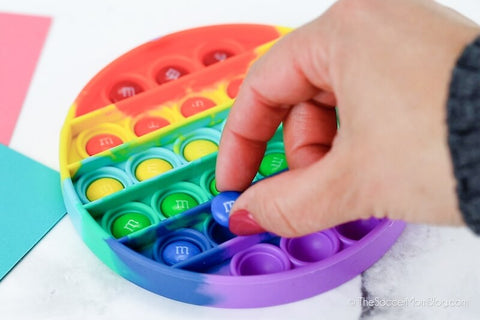 Put M&Ms in a pop-it fidget toy
Place chocolate chips or melted wafers in a microwave-safe bowl. Melt in 30-second increments, stirring in between, until smooth.
Safety Precautions: Adults should handle this step. Be careful as the bowl may be very hot.
Pour melted chocolate into pop-it molds and spread with a spatula to make an even and smooth surface.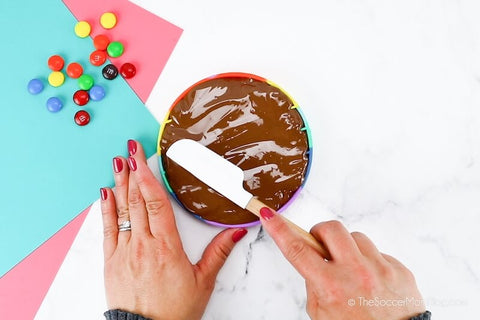 Pour melted chocolate into pop-it molds
Making Chocolate Lollipops
Let it set until the chocolate is completely firm.
TIP: Place the molds on a small baking sheet before adding the chocolate. After pouring the chocolate into the mold, transfer the baking sheet and mold to the refrigerator so it will set faster. The baking tray prevents the silicone toy from bending when you move it.
Once the chocolate is fully set, turn the mold over to a counter or work area with the chocolate side down.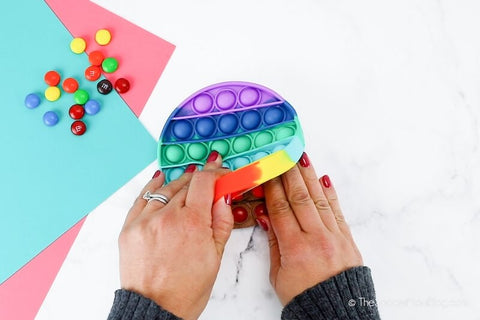 Make pop it chocolate bars with silicone bubble fidget toys
Carefully peel off the silicone mold to separate it from the candy bar. This is the easiest way we've found so the candy bar stays in one piece.
We also tried this with white chocolate and a cute pop-it toy in the shape of a popsicle...and it turned out great too!
Pour white chocolate in a toy that pops it