Regular price
Sale price
$12.00 USD
Unit price
per
Sale
Sold out
Quiet Book
Synchronous cultivation of multi-dimensional sense organs, cultivation of hearing, touch, and vision, allowing children to learn happily in games.
Each book with a different theme is suitable for children aged 1-8
Game introduction:
1. Put on the Velcro
2. The card returns and the game is ready to start
3. Open the book to recognize it and see if you post it correctly?
Toddler Busy Book Learning Toys
Quiet Book for Toddlers: there are 4 themes in toddler learning toys: Animal busy book, digital busy book, vegetable and fruit busy book and traffic busy book. This is a toddler learning toys that can enhance children's hand eye coordination. In the process of learning, children's brain becomes more sensitive to the integration of information through observation, thinking and memory operation. At the same time, cultivate multi-dimensional senses, so that children can learn happily in the game.

Vegetable Theme Busy Book: Preschool Learning toy vegetable cognition, with a total of 5 story lines, including "name and quantity", "fruit identification", "finding a home for vegetables", "lovely fruit" and "vegetable and fruit puzzle". The vivid and interesting story plots constantly stimulate children's imagination and creativity, travel in the ocean of knowledge and bring more fun to children.

Preschool Learning Activities: this quiet book is an interactive book for toddler learning toys, which can be operated with children and give you and your children a chance to get familiar with this book. The transparent part is a rough Velcro that should be attached to the book, while the soft white Velcro should be attached to the cardboard. Repeated persistence and matching will improve children's fine motor skills, problem-solving skills and patience.

High Quality Materials: a versatile is busy book can be reused and bring endless fun. The cardboard is thickened and the surface is covered with film, which is waterproof and not easy to tear. The size is suitable for small hands to grasp, and children will enhance their sense of touch when pasting books repeatedly. This montessori toys for toddlers uses bright colored pictures to help children better understand their surroundings.

Toddler Learning Toys: montessori toys for toddlers activities help toddlers learn naturally through play, durable sensory toys. To develop their fine motor skills. Our preschool learning toys can let children play quietly for hours and give you some quiet time! It can also be a perfect gift for preschool children, who will love it very much.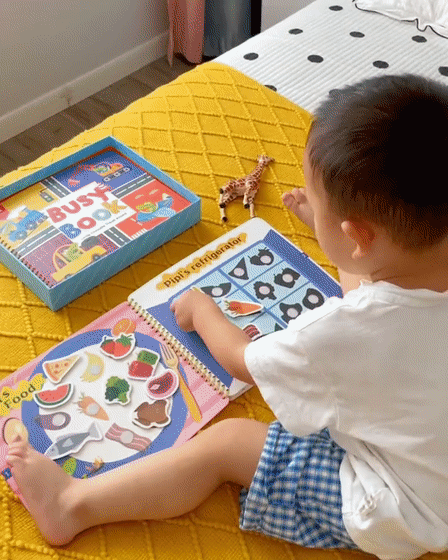 Busy book encourage self-soothing and mindfulness. Autism will find much fun in this toddler activity book!
Repeatedly to stick and match will improve kid's fine motor skill, problem resolving skill and patience.
Your child will never feel bored and you will be able to drink coffee while your child is playing with a busy book.
Perfect educational toy for toddlers 2+ years old because it brings a lot of pleasure.
【 Toddler Activities 】Busy book is a toddler learning toys, designed to improve motor skills, cognitive skills, basic literacy, memorization, identification, and hand-eye coordination (including kid with autism and kid with speech development delays)
【 Simple & Convenient 】In order to let kids get the preschool learning faster, We provide the best quality toy raw materials, so that children can get a safer playing environment, and let parents worry about
【 Durable & Safe 】The Busy Book is made of the highest quality safe materials, tear-resistant and water resistant, and handed down from generation to generation. The card edges are rounded to avoid any potential damage.
【Great Travel Toy Choice】Storage bag with carrying handle, easy to carry. Perfect for long car trips and airplane rides, toddler travel toys will keep your kids busy and toddler travel activities less boring!
Packing size: 28*20*1.8CM
Number of pages: 10 sides(5 pages)
Weight: 420g
Packing method: boxed
Product Category: Toys
Product material: paper
Style: traffic/animal/number/vegetables and fruits/four-in-one quiet book
Shipping & Returns

Cykapu provide 2-days free shipping unlimited.

We promise our customer one of the best experiences of online shopping that is hassle free and reliable. We take care of all parameters that ensure your delivery reaches you in a sound state.

All products are stocked in the US

USA

Handling time: 1-2 business days.

Transit time: 3-7 business days.

 

Other Countries:

Depends on the speed of international parcels
Return Policy

ITEMS ARE MISSING FROM MY ORDER, WHAT CAN I DO?

Possible reasons:

Order Split Shipped: Check your order whether it has not been split shipped. Contact our Customer Service.

Ordered from different warehouses: If you ordered from 2 different warehouse the order will have multiple shipments.

Cykapu made a mistake: On rare occasions an item maybe missed during packaging.

Parcel damaged or items removed: The package seems modified or damaged and items may have fallen out.

If you have checked, there is still something missing. Take photos of what has arrived and email what is missing to our Customer Service at service@cykapu.com, including your order number and a copy of the parcel declaration.

HOW DO I RETURN AN ITEM?

Please contact our customer service via email to service@cykapu.com to help if we can solve the problem together first. In most cases, items can be returned within 30 days. I RECEIVED AN INCORRECT ITEM. Please contact us by telling the order number and the details you received. Our Customer Service team will respond to you within 24 hours. Once Customer Service confirms an item is incorrect, we will either refund you or dispatch an alternative item (if applicable and available). Cykapu will decide whether you need to return the wrong product or not and compensate the return shipping fee once when we receive it.

AN ITEM WAS DAMAGED DURING SHIPPING.

If your item was damaged during shipping, you are eligible for a refund after reject it. When requesting your refund, please be ready to provide Customer Service with graphs clearly showing the problem with the item and its courier number as soon as possible. Please also provide "Proof of Damage" documentation from your courier.

How To Play?

*Winning conditions: success forces the player who presses the last bubble to be the winner. 
*Take turns to roll the dice, the player with the largest number of points is the first-hand side, press the bubble first. 
*Each player takes turns pressing any number of bubbles in any row (note: if you press multiple bubbles must be connected), the opponent can also press bubbles that have not been pressed in that row or other rows, and the player who presses the last bubble is the loser.
Share
View full details